REGISTRATION






Julia Caudill (Washington) and Ulf Cronquist (Sweden)
registered participants on Thursday in the Yachting Center.
Ken Forsyth (UK) on the left.





Filomena Trindade and Lawrence Salloum (Quebec)





Andrea V Janett (Switzerland),
Gary Smyth (Ireland),
Susan Cochrane (Japan)





Anna and Ulf Cronquist (Sweden)


Thomas Krismer (Italy) and
Ute Egle (Germany)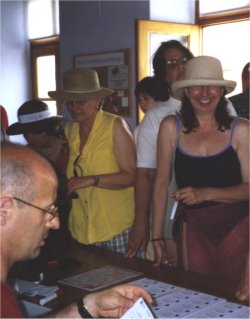 Dolores Nedbalek (Germany), name needed,
Valerie Shertzman (California), Lizzie Madder (UK).
Henning Franz is counting the Dinner tickets.









Clockwise: "This is perfect for your body" - Dolores Netbalek (Germany) selling Event T shirt to Dick Straub (New Jersey)

Ray Webster (UK) already got his shirt. Barbara Mayer (Germany) passes the bag of Event mementos, Jarkko Arjatsalo (Finland) watching.

"Should I get one, too?" Dafydd Price-Jones (Wales)





Elizabeth and Sam Sebban (France), name needed!

Kim Solez (Canada) is still busy with his camera - he also absorbs ideas for the Leonard Cohen Nights







More Registration Photos



Photos &copy 2002 Kim Solez and Eija Arjatsalo