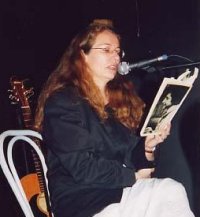 Pauline Gallagher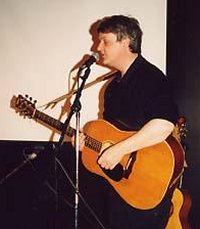 John Gallagher




Joe Hallinan,
Jacqui Brooks,
Tim Darbyshire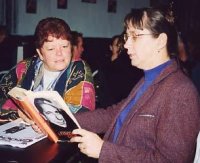 Jean Cameron,
Annie Roker




Lee Taylor



On the right:

John Gallagher,
Robbie Ella,
Michelle Trace,
Justin Brown

It was with a sense of great achievement that we held our 10th LC Birthday celebrations. After all, it had all started out with an idea of doing something to commemorate LC's lifetime of achievement now that he was about to turn 60 years of age! The first year (1993) was to be a practice year and to see what interest there was for an event on his 60th birthday (1994). Little did we think that it would become an annual event with a growing interest both locally and from further afield.

The weekend event commenced with a small number of folk viewing a selection of videos including some of the material that we first saw on Hydra (kindly made possible by Jarkko's exemplary generosity and good will). This session concluded with the selection of more notable and recent video clips of Cohen's.

The main night event started slowly, as it usually does, with a gradual build up of people at C7: the diehard fans, the regulars, the familiar faces, the not so familiar faces and the new guests. The video clips were played on a large screen on the main stage as everyone arrived and settled into a meal. At the peak of the night there must have been about 50 to 60 people present. The furthest travelled guest for the night was Paul Monk from Melbourne. He was someone I was delighted had made the effort to come as he had written the brilliant article for The Australian Financial Review on Cohen's "lyrical Judaism" the year before. It was also wonderful to have a group of four new participants from Mt Tambourine – they not only had a great time but also performed brilliantly.

The other special guest on the night was Justin Brown who good-heartedly gave us - at a highly discounted fee - his time, equipment and skills to produce a small video production of our main night event. (This short video was then debuted at the Edmonton Leonard Cohen Night launch the following weekend.) Gerard Saide again gave us his time and photographic expertise to record our special night.

The performances all captured the spirit of the night with John Gallagher being the usual tireless 'backbone performer' on the night. He sang: "Is This What You Wanted"; "Chelsea Hotel"; "That Don't make It Junk"; "Suzanne"; "One Of Us Cannot Be Wrong"; "So Long Marianne"; "Joan Of Arc"; Avalanche"; "Last Year's Man"; "Jazz Police"; "Dress Rehearsal Rag"; "Bird On A Wire" and "Lover, Lover, Lover". One of the unknown special guest performers on the night was Lee Taylor who has a wonderful bluesy style and covered "Dance Me To The End Of Love"; "First We Take Manhattan"; Thousand Kisses Deep" and "The Future". Madelon also performed captivatingly, doing superb renditions of "The Stranger Song" and "Famous Blue Raincoat". Madelon also did a wonderfully evocative reading of "Don't Go Home With Your Hard-On".

Other poetry/prose readers to perform on the night were Pauline Gallagher (reading "Credo"; "Song To Make Me Still"; "When I Uncovered Your Body" and "Morning Song"); Paul Monk (reading a couple of selections from Stranger Music, including "Song for Abraham Klein"); Tim Darbyshire (reading an excerpt from "Beautiful Losers"), along with my reading of a selection of short poems - but I can't remember what this comprised! Overall, the night had the usual joyous and communal feeling about it, made possible by the presence of so many like minded and wonderful people.

The following day saw about eighteen of us at "The Barn" down at Flagstone Creek, where we enjoyed a satisfying meal in the rustic rural setting, along with a few poetry readings by Andrew Leggett, Bryce Alcock and myself. John also performed a song on his acoustic guitar. It was a fitting and relaxed way to end the 2002 event.