THE SONG OF LEONARD COHEN

PORTRAIT OF A POET, A FRIENDSHIP AND A FILM


by Harry Rasky

Clockwise:
The Canadian edition (2001)
A reprint by Mosaic Press (2007 ?)
The UK edition by Souvenir Press (2010)
Third printing by Mosaic Press in Canada (2010)

Scroll down to see the French edition!



Title
The Song of Leonard Cohen
Author
Harry Rasky
Country & Year
Canada 2001
2nd printing in 2007 (?)
3rd printing in 2010
Publisher
Mosaic Press, Canada.
Pages
160 pages. 10 b/w photos.
Notes
ISBN 0-88962-742-8. Paperback.
Country & Year
UK 2010
Publisher
Souvenir Press, London
Pages
160 pages. 10 b/w photos.
Notes
ISBN 978-0-28563-865-5. Paperback.
Summary
"The crowd, the mass, the fans cheered for elegance, splendour under danger, and even more they cheered for blood. Leonard's tour took him mostly to sports venues and occasionally majestified concert halls, a journey of exhaustion to the level of pain."

"In the late seventies, filmmaker Harry Rasky was on one wild trip! He soaked in a jacuzzi at the Four Seasons with Leonard Cohen ... he drank wine and talked about the meaning of the life with Leonard and Irving Layton at Leonard's place in Montreal... Harry and Leonard were mistaken for Bader-Meinhof terrorists by soldiers with machine guns while dining at a German Burger King ... Harry was also a part of the 1979 Field Commander Cohen tour ... but best of all, he got everything on film. Read more about his 1981 documentary Song of Leonard Cohen.

Leonard Cohen called Harry Rasky recently to express his appreciation and admiration for the film. Inspired by that conversation, Rasky has delved into his personal archives and diaries upon which the film is based and has woven them into this text."

Also read the review by Judith Fitzgerald


Title
Léonard Cohen. Le chant d'une vie
Portrait d'un poète et d'un ami
Author
Harry Rasky
Country & Year
France 2016

Publisher
Balland, France.
Pages
250 pages.
Notes
ISBN 9782940556410. Paperback.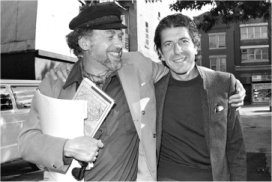 Photo &copy 1979 by Hazel Field. Reprinted with
permission. Any other use strictly forbidden.


Thanks to Amy Land at Mosaic Press, Katrina McNicol at Souvenir Press, and Dominique Boile