LEONARD COHEN
UNDER REVIEW 1934-1977


Documentary film (2007)
"An independent critical analysis"

Leonard Cohen - Under Review 1935 -1977 is a 90-minute documentary film which reviews the poetry, music, performances, and career of Leonard Cohen. The documentary is based on interviews and reviews of some experts like Ira B Nadel and Jim Devlin (authors of several biographies of Cohen), musicians and producers who have worked with Cohen (Ron Cornelius, John Lissauer, Ronee Blakey, John Simon), and some music editors (Robert Christgau, Anthony De Curtis etc.)

The film is not authorised by Leonard Cohen, his record label or management. Because of copyright issues only short audio and video samples are included. The documentary uses still photos and some footages from NFB's Ladies and Gentlemen, Mr. Leonard Cohen and the BBC production (1988) Songs from the Life of Leonard Cohen. Cohen himself was not interviewed for the project; this is a critical review more than a biography or documentary. In spite of these limitations the film offers a good summary and perspective to Cohen's early career. Maybe not so much new information for Cohen's old fans but a nice introduction for those who have recently found Cohen's work.

Extras:
Army life - Ron Cornelius talks about leading Cohen's backing band "The Army"
Digital gaming feature "Leonard Cohen - the Ultimate Challenge"
Full contributor biographies

This DVD is being distributed by MVD Entertainment Group in the US and by Chrome Dreams Companies in the UK. Running time 87 minutes.




LEONARD COHEN
UNDER REVIEW 1978-2006


Documentary film (2008)
The second documentary was released in 2008. It picks up the story in 1978, and brings the tale right up to recent years.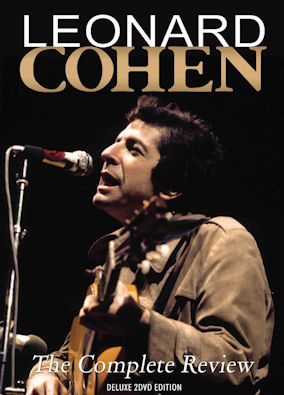 Complete Review (two discs, 2012)
Both reviews in one box of 2 DVDs. Total run time 151 minutes.
Other releases with the same contents
The Early Years = Under Review 1934 - 1977, single DVD
After The Gold Rush = Under Review 1978 - 2006, single DVD
The DVD Collector's Box = The Complete Review (2 DVD).
Lonesome Heroes, single DVD with the same contents (110 min version edited from the same footage)
The Daughters of Zeus = Lonesome Heroes


Leonard Cohen Triumvirate (2015)
275 minutes on three DVDs:

DVD 1-2 = The Complete review
DVD 3 is new, The Mind of A Poet:






Thanks to Dominique Boile for his help with these listings